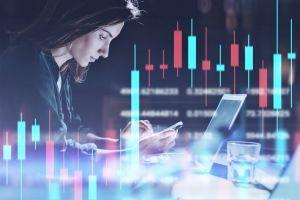 After cryptoassets themselves, exchanges are arguably the most important part of the crypto ecosystem. Without exchanges, individuals would have fewer means for buying and selling crypto, which in turn wouldn't benefit from the impressive price rises that have driven so much investment into the space in 2020.
But while 2020 has been a pretty good year for exchanges, what can we expect from them in 2021? According to various trading platforms speaking with Cryptonews.com, we're likely to see a number of important trends emerge next year, as exchanges adapt to the changing structure of the crypto industry.
These include an expansion of DeFi (decentralized finance) services and token listenings, a renewed focus on decentralized exchanges (DEXs), and also a revamping of user experience, particularly in the wake of PayPal's move into crypto. There will also be a general expansion of trading features, including partnerships with merchants and a push for new licenses.
2020: What was expected, and what happened?
Back in 2019, industry players said that exchanges would mostly focus on three main areas: decentralized exchanges, diversification, and improving security.
Historical monthly top tier vs lower tier volume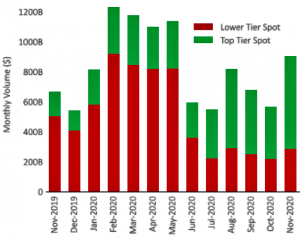 DEXes did increase in number over the course of 2020, but for the most part it wasn't the major centralized exchanges that launched them, but rather independent players looking to carve out niches for themselves (e.g. Gnosis). However, we did see Bitfinex launching its EOSfinex, a non-custodial exchange on the EOS mainnet.
Exchanges certainly diversified in 2020. Binance launched a new staking platform, a variety of futures and options trading services, and its own Binance Card. Likewise, Coinbase launched its own Visa card in the United States, while also rolling out its Coinbase Custody service internationally and expanding its staking services.
As for security, many major exchanges did introduce new measures and systems, but hacks remained fairly common (e.g. KuCoin).
Monthly spot vs derivatives volume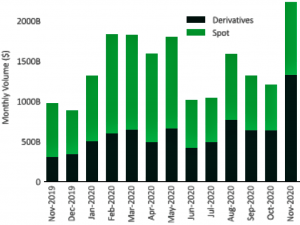 2021: Exchanges focusing more on DeFi
We spoke to executives with three exchanges for this article, and all three mentioned DeFi when asked which areas will be particularly important for exchanges in 2021.
"Our own clients have shown increased interest in DeFi tokens, so we listed a wide variety of them on our platform. Just at the beginning of November we have added 12 new ones, available for both trading and staking purposes. And we plan to integrate with the DeFi field even stronger in the future," said Konstantin Anissimov, the Executive Director at CEX.IO.
Binance CEO Changpeng Zhao draws a similar picture, despite admitting that he prefers not to speculate too much about what new products or services Binance will be launching over the next 12 months.
Zhao added that Binance has already introduced many DeFi-oriented products, such as liquidity pools and savings (interest/yield generating products).
"We also created the Binance Innovation Zone specifically for listing newer coins, providing liquidity for DeFi tokens while protecting less experienced traders from the risks in trading them," he added.
The steady evolution of DeFi products is something that OKEx CEO Jay Hao indicates will be a priority for this exchange also.
And with the total value locked into the DeFi sector hovering above USD 14bn, it's a safe bet that expanding DeFi services will be important for pretty much every major exchange next year.
More diversification, licenses, decentralized exchanges
Much like experts suggested last year, the people we've spoken to this time around indicate that exchanges will again focus on diversification, offering as many different products as possible in order to provide a more complete ecosystem of services.
"In 2021, we will continue to work on improving and developing OKExChain to host an ecosystem of decentralized apps with a main focus on trading," said Jay Hao, adding that another priority for OKEx will be expanding the partnership network and merchants who accept its OKB coin.
Konstantin Anissimov noted that CEX will also be diversifying in a variety of areas next year.
"I can't disclose full information for now, but what I can say is that our new services will meet the desires and needs of a wide variety of clients – from individuals to large-scale institutionals," he said.
As the above quote suggests, this 'diversification' is another way of saying that exchanges will adapt to the changing needs of users and businesses within the cryptoasset ecosystem, while also introducing new features or services that might entice more institutional investors into the space.
One way of enticing more investment is to launch in new markets, and CEX will be pursuing such a strategy in 2021 by attempting to gain certification in as many areas as possible.
One specific area that will receive ongoing attention in 2021 will be decentralized or non-custodial exchanges, although as with last year, this will involve exchange upgrading and enhancing their non-custodial offerings, rather than launching completely new ones.
"We will also expand OKEx Earn to accommodate more of the tokens that our users wish to see and will continue to strengthen OKEx DEX, as we see a very strong future for decentralized finance and have already contributed to its growth," said Jay Hao.
User experience
With PayPal generating headlines in October by launching its own crypto service, the possibility arises of exchanges moving in a similar direction in 2021 and offering its own payment services. However, the exchanges we've spoken to don't really view PayPal as a rival, even if some would like to get more involved in payments.
Regardless of whether PayPal will become a direct rival to crypto-exchanges, exchanges will look to refine their user experience (UX) in 2021.
"Yes, we intend to improve the user experience, both for mobile users and for the web ones. We plan to make a convenient mobile interface similar in simplicity and convenience to modern online banks, where you can easily store, exchange, receive, send, stake cryptocurrency," said Konstantin Anissimov.
OKEx's Jay Hao also affirmed that the exchange is working to continuously improve user experience, as does Binance's CEO.
"For example, we recently launched a Lite version of the Binance app which streamlines the interface for a simpler trading experience and more a beginner friendly way to buy crypto with fiat," Zhao said.
Taken as a whole, 2021 will see exchanges increasingly adapt to the cryptocurrency ecosystem's evolution. This will mean more DeFi products, new trading features, and more of the UX and licensing that will bring in increasing investment.
Source: cryptonews.com